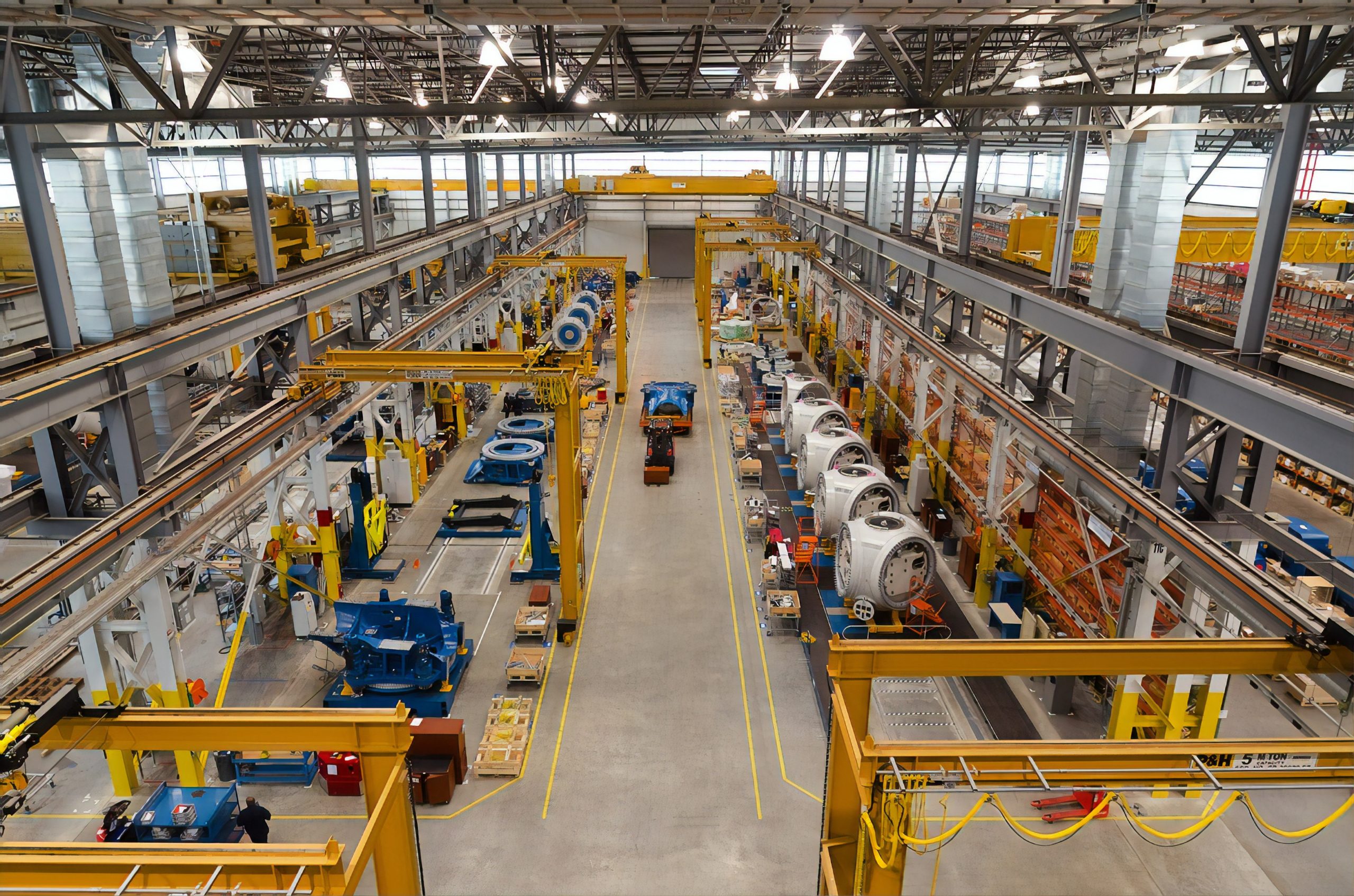 As a business owner, we understand how you're constantly crunching numbers, trying to make savings wherever you can, while keeping profits healthy.
Here at Big Green Switch, we're here to help you reap the benefits of energy-efficient lighting.
Factory lighting generally needs to perform for endless hours and inevitably this means higher electricity bills, which could soon eat into your bottom line. However, LED lighting is a game changer for many businesses.
We know that there are many things to consider when it comes to illuminating your factory effectively but at the core of everything, is the safety of your workers.
If you'd like a bespoke plan to get the best lighting solutions for your factory, our designers can help wherever you are based in the country.
Factory lights considerations
The factory size is the first thing to examine as this will give us a good idea of the type of lighting you need and the amount of money you'll be hoping to save. 
You should also consider your ceiling type since not all fixtures are compatible with all ceilings. For example, some fixtures are more suitable for drywalls than others.
We understand that you'll want to highlight the walkways and other areas where high levels of activity take place, for example, conveyor belts or packing areas. While all staff need to be considered when it comes to lighting their work areas, illumination can vary depending on the level of detail of the task in hand. 
Our designers can plan and install a bespoke arrangement with all of your needs in mind.
Why are LED manufacturing lights needed?
LED lighting solutions are the best way to boost productivity in staff and enhance efficiency. And the good news is, this type of illumination is incredibly energy-efficient.
Some areas of your factory will need great levels of light, for example where employees are working on finer details of garments or have the need to be able to see a true colour as it would appear in daylight. 
With many factories operating around the clock, good lighting is paramount to the success of your business, especially when natural light is limited.
For tasks such as sorting on conveyor belts for foreign objects or adding detail by hand means increased and reliable luminosity is required to conform with health and safety regulations.
With poorly lit factories, staff can suffer with headaches, eye strain, mood swings and drowsiness – none of which make for a productive workforce.
Advantages of LED factory lighting
For long operation hours, LED lights may seem like a big cost to pay up front but the lack of maintenance needed means they are a superb long-life investment.

LED bulbs are actually adaptable to cooler and warmer temperatures as they do not produce any heat.

As solid state components, LEDs have no brittle glass casing or filaments, meaning they are far less prone to damage from external shock.

A typical LED can light up to full brightness in under a second. This means you can designate low traffic areas with a motion sensor so that lights can turn on when someone approaches. This is a major money-saver.
What if the wrong factory lighting is installed?
Installing the wrong type of lighting can be a potential hazard. Using high bay lighting in a low ceiling area, for instance, could cause areas to be over lit, spelling disaster for energy bills.
If lights begin to flicker, this could cause a strobing effect and this could give the illusion that machinery is switched off when it's actually on, for example, the blade of a cutting tool.
And of course health and safety regulations need to be in place and this can include emergency lighting in place.
Sign me up for LED factory lights
According to a recent survey by The Carbon Trust, concern over mounting energy bills from SMEs has risen from 46% in 2016 to 67% in 2019. 
If we've inspired you to make the change and find the perfect lighting solutions for your factory, we can help.
Our talented team at Big Green Switch creates a report to show you exactly where you can save precious pounds. We will explain about the various types of fixtures to allow us to plan a customised lighting system.
To start the process, all you need to do is fill in our quick quotation form. If you agree to our price, our designers, based out of Manchester & London, will install your new LED lights.
Our aftercare advice is second to none and this will mean you can truly benefit from your new lighting system. 
Our Manchester & London energy experts can help
If you want to increase productivity and save cash in the process, you should consider our LED lighting solutions.
We will dramatically improve your lighting levels and working environment, as well as bring your energy bills crashing down.
Our lighting designers are here to answer any queries you may have about fixtures or the installation process. 
Big Green Switch ensures you will see a big difference in your bills. So what are you waiting for? Best contact us now for a free, no obligation quote on 0161 738 1154.